[home]
[Programs]
[Gallery]
[News]
The Chicago Public Art Group
Toward a People's Art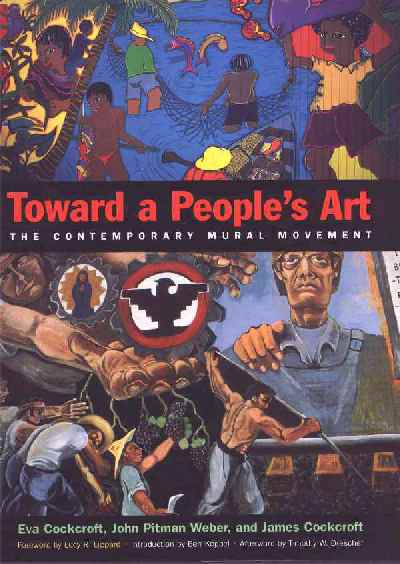 First published in 1977, Toward a People's Art remains a classic study of the community-based mural movement that produced hundreds of large-scale wall paintings in the United States and Canada. The authors, two artists and a political sociologist, were interested in mural painting as a response to the times and the need of artists to make direct contact with the oppressed in the only forum that seemed viable: the streets. They provide a comprehensive discussion of the muralists, the murals' effects on the community, and the funding these works received.
Those interested in art and social change will welcome this new edition, which represents an ongoing faith in the ideal of participatory democracy as the best way to confront the nation's social impact. The introduction describes the era -- the late 1960s -- from which this book emerged and sees "the Movement" as, in fact, several overlapping movements with various memberships, goals, sympathies, and rhetorics. The new afterword looks at the 1980s and 1990s and the continuing commitment to the community-engaged process of making public art.
Written by Eve Cockcroft, John Pitman Weber, and James Cockcroft. Foreword by Lucy Lippard. Introduction by Ben Keppel. Afterword by Timothy Drescher. Published by University of New Mexico Press.
Eve Cockcroft is a muralist and writer who lives in Los Angeles. John Pitman Weber continues to be active in the Chicago Public Art Group (formerly the Chicago Mural Group) and teaches at Elmhurst College. James Cockcroft, a sociologist, is the author of numerous books, the most recent of which is Latinos in Beisbol. Ben Keppel teaches history at the University of Oklahoma, and Timothy Drescher teaches interdisciplinary humanities and critical social thought at San Francisco State University. Lucy R. Lippard is the author of eighteen books on contemporary art, the most recent of which is The Lure of the Local: Senses of Place in a Multicultural Society.

Pricing
Toward a People's Art, $28.50, plus shipping.
---
---
[Home]
[Programs]
[Gallery]
[News]
---